Writing copy and partner page setup to persuade partners
The issue: Partnerships teams have to sell their PROGRAM to third parties (agencies) who decide whether or not to "partner" together with the goal of mutual-benefit (revenue, co-marketing, support, training). The partner teams are not marketers or copywriters, and the attempt to have marketing people internally write the copy often ends with a low-effort and non-prioritized job because the marketing team has separate KPIs and do not create content focused on converting partners. And even if they do help, they are not knowledgeable about what partners would want to read, so they shouldn't be asked to write the copy.
Copywriting principles
The purpose of copywriting is to:
Convey that you understand a prospect's problem

Show that you can solve their problem, and explain what benefit the prospect can expect as a result of your solution

Compel the prospect to take action (CTA)
At a minimum, for a solid home page, Your Copy SHould...
Immediately show what the reader gets from what you do—in seconds.

Express the problem to relate with the reader

Show how you solve the problem

Sprinkle testimonials to reduce risk in the reader's mind

Show 3 or 4 simple steps for how to start working with you

Show a clear call-to-action, several times, for the primary action you want them to take
Keep this close to your writing psyche...
Don't spell out all your business achievements on the landing page - only what they can get from the partnership

Be clear, not clever

The reader wants to survive with their business—that's why they're on your site

Show how you help them survive (and thrive) with a clear and relevant message

Brutally, no one cares what you do—readers only care what they can get from what you do

So then… write from the reader's perspective

Make it more about them—less about you...

Including your about section!

Position them as the hero and you as the guide

Replace jargon with plain English to pulverize the reader with clarity
It's really quite simple...
A confusing message is a villain when it comes to marketing

Readers want to know what expensive problems you solve for them

Make it clear, simple, and obvious what next action they should take

Otherwise, people will stop & leave -vs- stay & scroll your home page

And, you'll be perceived as a commodity
Note:
With the copy, it doesn't matter what your business has done, what is important is to convey what the reader can get out of it (for our purposes - show what benefit a prospective partner can get expect from a partnership with you).

The difference between product sales and marketing copy and partnership sales and marketing copy - with a partnership you are selling the value of the partnership, not the product.
Tear Downs/Examples of Site Copy on Partner Program Web Site Sections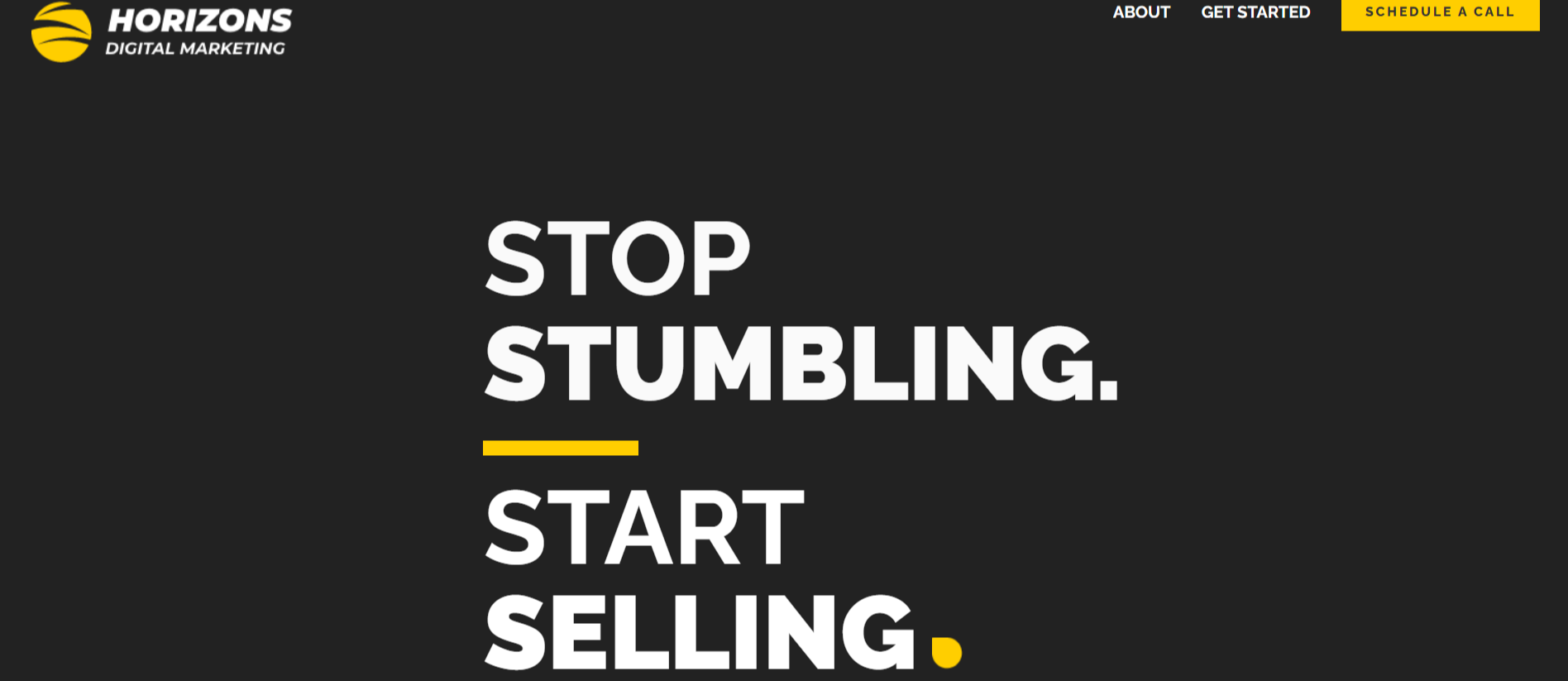 https://horizonsdigitalmarketing.com/
Frame message around empathy. Showing the reader we understand their problem/POV, earns us the privilege of helping to solve it

Call to action: Be bold and keep it consistent (exercise in memory -- - and be specific about what you want them to do: eg: "schedule a call"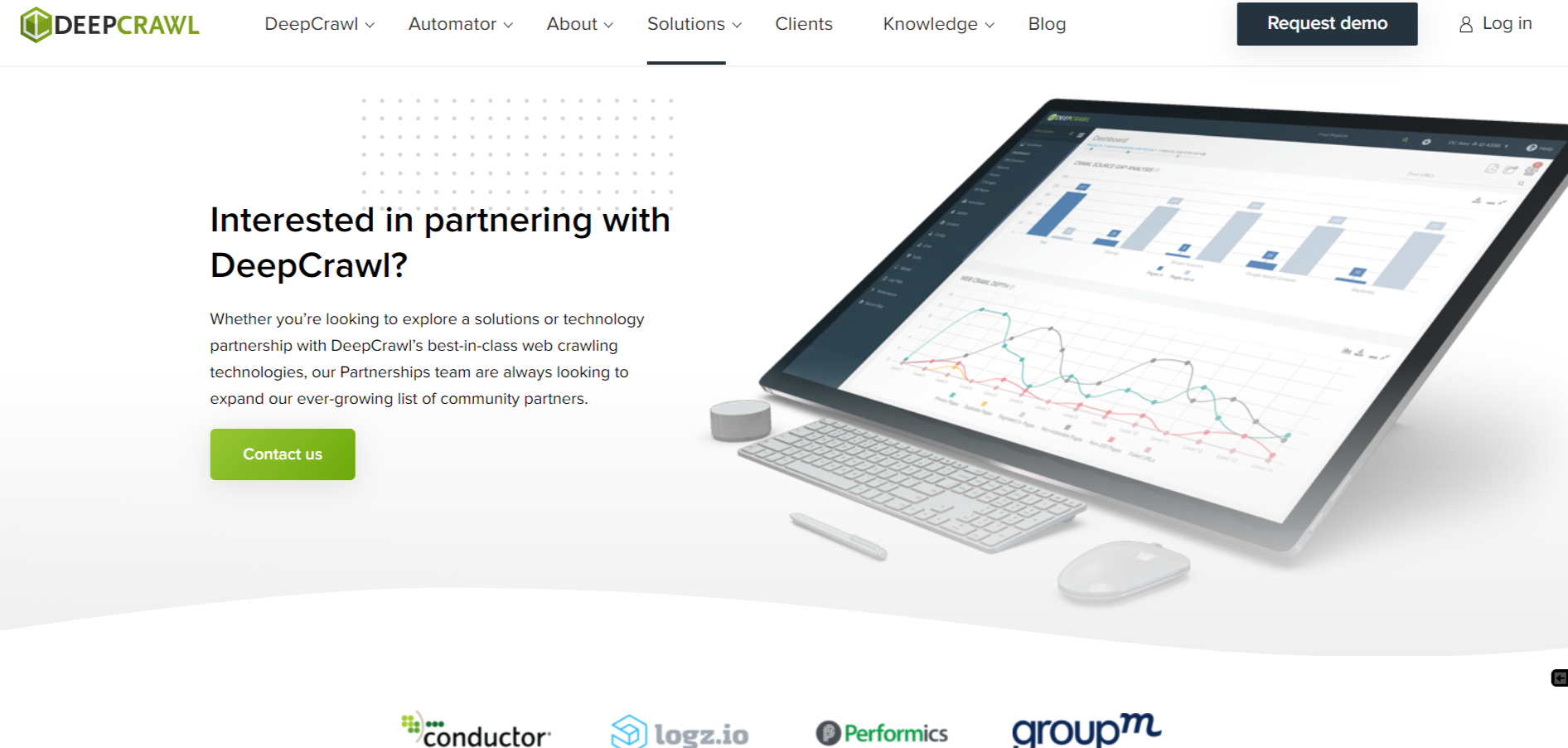 https://www.deepcrawl.com/partners/
The call to action is vague. "Contact Us". Something like "Schedule a Call" is more direct.

"Whether you're looking to explore a solutions or technology partnership with DeepCrawl's best-in-class web crawling technologies, our Partnerships team is always looking to expand our ever-growing list of community partners."

The copy should not be talking about what DeepCrawl's objectives, it should be talking about the prospective agency partner and how they will benefit from a partnership with DeepCrawl.

Phrases like "best-in-class" are not a value add because they've become so hackneyed

Logos of partners alone are not as persuasive as logos with social proof (testimonials from the partners)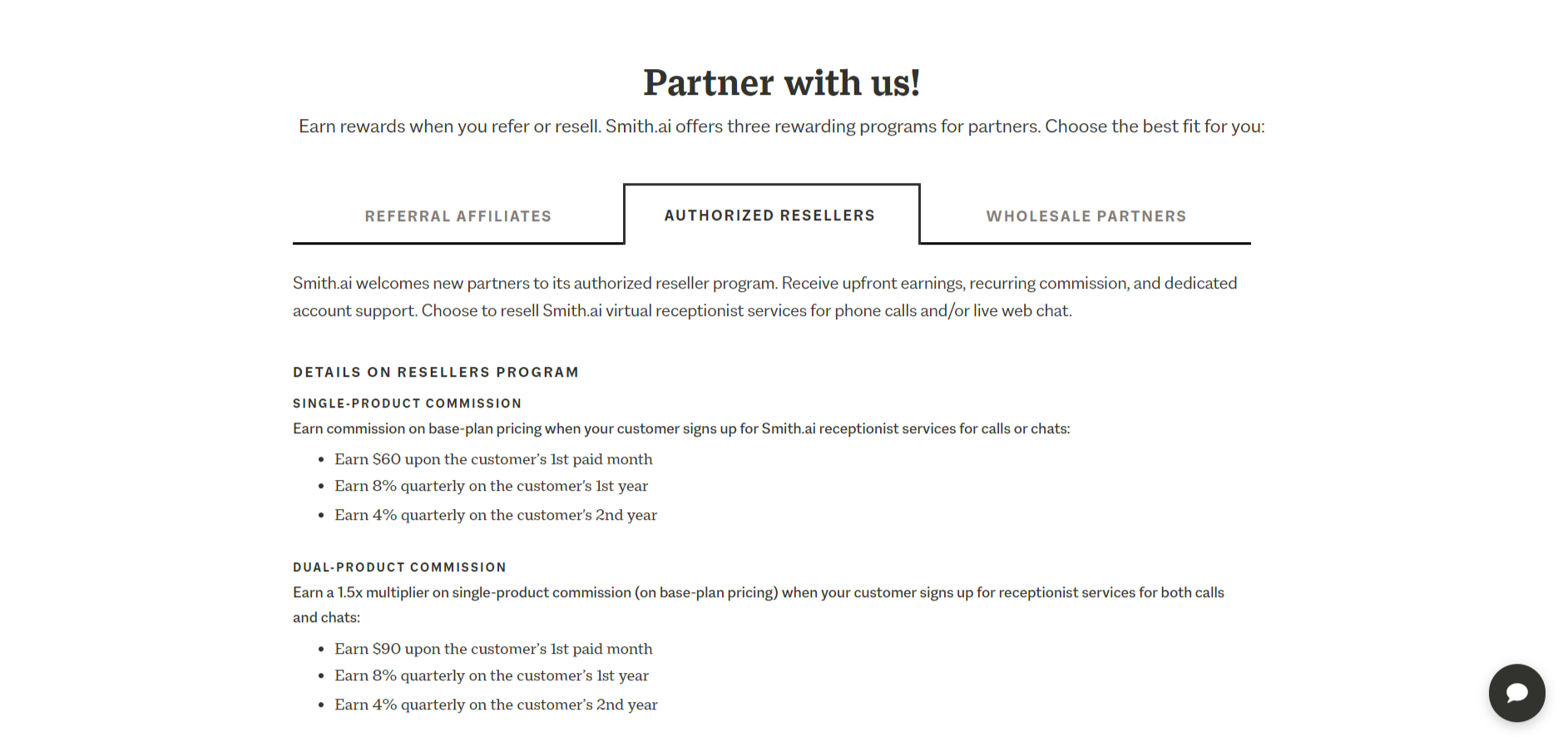 smith.ai/partners
A lot of noise - so much text - makes it hard for the main message (ie: "Earn rewards…") to stand out - Walls of words can be very intimidating for the reader

Needs more visuals/more story/more calls to action

Create a custom playbook for the partner page -- make sure anyone landing on the partner page is receiving a customized message and will be routed to the partner manager.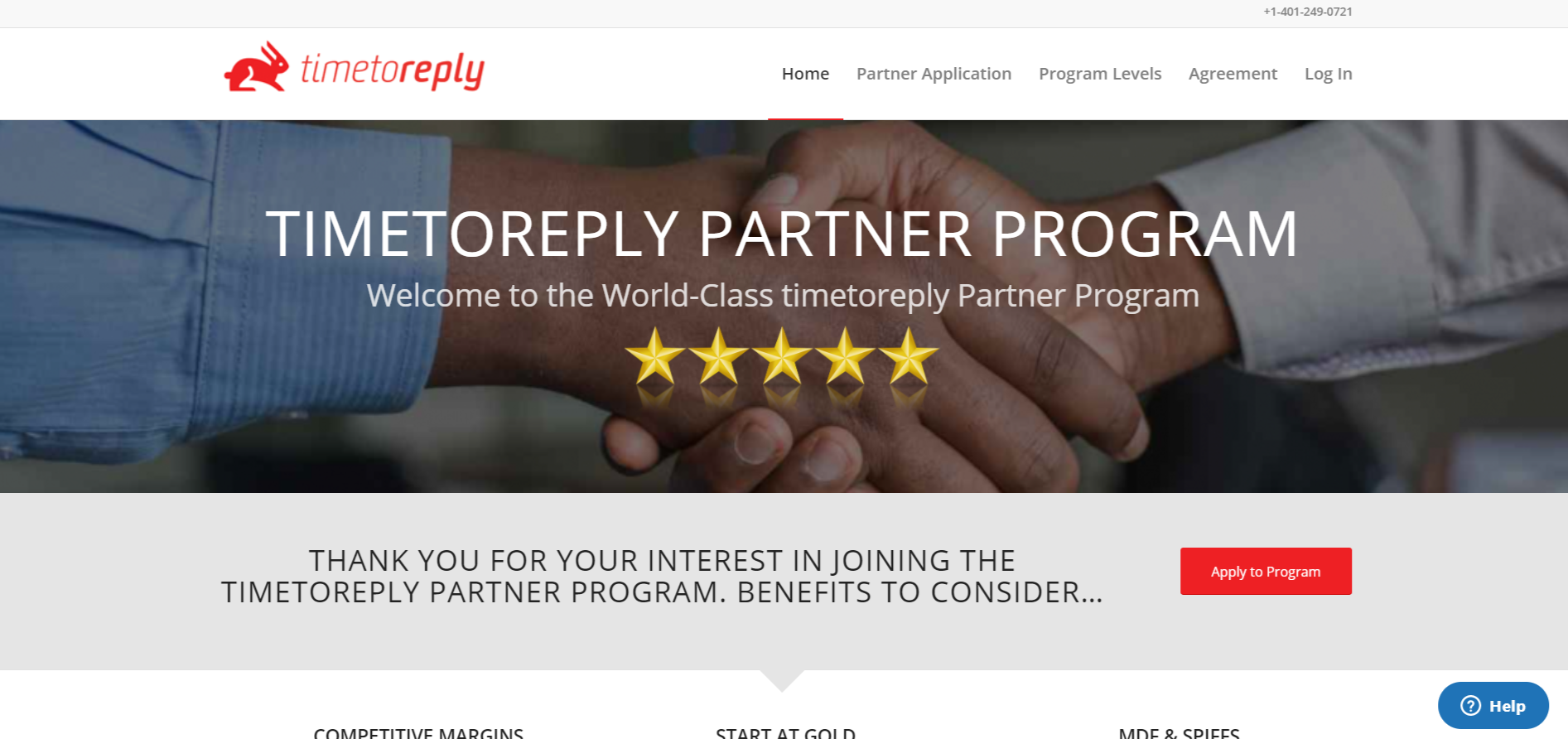 https://partners.timetoreply.com/
The top headline is too long for all caps (blends together/hard to read)

Don't use jargon (eg: "MDF/Marketing Development Funds) for an external audience who may not understand

Don't throw the whole kitchen sink in -- resonate more by using less. Lists of benefits are overwhelming and could be broken into categories to differentiate, make them more distinguishable and digestible. IOW: Big benefits as categories.

Write it so simply that a kid can understand it.
Other guidelines/tips:
Apply the "Grunt test" -- is it easy for people to say "so what"?

The FAQ page on your site is a great way to set yourself ahead (forward links to it for SEO)
| | |
| --- | --- |
| Words/Phrases it's best not to use: | Replace with: |
| Affiliate | Referral Partner |
| Commissions | Referral Fee's |
| List or Database | Directory |
| Any business speak jargon/buzzwords "Best-in-class" | Replace with simple terms |
| Multiple CTAs | For buttons - use one simple CTA, e.g.: "Schedule a Call" |
Steps to revamp your partner funnel
Step 1 = Make sure your page tells a story.

Step 2 = Remove any popups that drive traffic off the page

Step 3 = Add an FAQs section

Step 4 = Make sure any chat bubble copy and playbooks are focused on the partner audience and not generic
What next?
---
Additional Examples of Well Done Partner Pages:
Klaviyo
Klaviyo helps eCommerce brands drive more sales with email, Facebook, and Instagram marketing campaigns.
Their Partner Marketing Manager is: Elizabeth Nirenberg
Their partner program landing page
One of the aspects we really like about their partner page is how they speak so directly to their audience's needs: "We've designed two unique partner programs to recognize, grow, and reward agencies and brand evangelists – while ultimately helping grow the businesses of our mutual clients."
Typeform
What is Typeform: Typeform is a Barcelona-based online software as a service company that specializes in online form building and online surveys. Its main software creates dynamic forms based on user needs. Typeform's software has been used by Apple Inc., Airbnb, Uber, and Nike, Inc. Typeform produces millions of forms every month.
Head of Partnerships and Biz/Dev: Kevin Raheja
What we like about their landing page
Typeform's partner page is gorgeous – which further-exemplifies value partners can bring to their business. They split traffic on the page to brand vs agency partners in a clear way. The agency partner page is clean but provides all of the answers you'd need to at least apply. It has the header removed and lives on a subdomain which is another great factor in partnership conversion funnels because it allows the partner team more flexibility over changes. Social proof is also scattered throughout the page.
Unbounce
What is Unbounce: Unbounce is a leading landing page platform and one of Canada's fastest-growing tech companies with offices in both Vancouver and Berlin. Unbounce has powered over 650,000,000 conversions to date and serves more than 15,000 customers worldwide.
Director of Partnerships: Ty Lingley

What we like about their landing page
From the top of Unbounce's partner landing page, you're greeted with the potential to earn more recurring revenue – 20% for every new customer you refer to Unbounce. You can get a high-level view of how partnering as a marketer, agency, or influencer works, as well as view some very helpful FAQs at the bottom of the page. For those on mobile devices, their landing page is well laid out, clear, and easy to follow.
Justworks
What is Justworks: Justworks combines a simple platform and exceptional 24/7 customer service with the power of a PEO, so all teams have more time to focus on what matters. Get access to corporate-level benefits, seamless payroll, HR tools, and compliance support—all in one place.
Director of Business Development: Molly Siems Cavanaugh

What we like about their landing page
Justworks' landing page draws you in right away with the bold words "Let's provide more value together." Their partnership landing page includes testimonial quotes, a bit of insight into who their deal partners are (for example, companies with 5-50 employees), as well as a full breakdown of their partner tiers with associated costs, perks, and resources available in each tier.
Databox
What is Databox: Databox is an app that serves as a personal data assistant, helping business users pay attention to what matters when it matters. From a morning briefing that makes sure you start the day knowing where you stand and how you're progressing towards your goals, to smart alerts throughout the week that let you know when something needs your attention, Databox makes sure you're never in the dark about the data that matters most to you.
CEO Peter Caputa

What we like about their directory
Databox offers a seemingly endless stream of partners, all of which who went through specialized Databox training. You even can sort them by "Experts In" to see only the agencies that know how to use the tools you need like CallRail, HubSpot CRM, Pipedrive, Marketo, etc.
Most of all, they invite their agencies to create and share their templates which are then associated with the partner page and create THOUGHT LEADERSHIP for their agencies as well as leads (because traffic to these agency Databox templates is then downloaded by others).