Template: Zoom Meeting How-To Guide (via ASU)
Note: This is an example from the University Technology Department at Arizona State University. The original can be found here.
STEP-BY-STEP GUIDE TO MEETINGS ON ZOOM
USING DESKTOP APP
---
If you do not have the Zoom Desktop App installed on your computer, download and install it from one of these locations:

Zoom Download Site for Windows & Mac: https://asu.zoom.us/support/download.

Zoom Download Site for Linux: https://zoom.us/download?os=linux

To login to Zoom:

Open Zoom

Select "Login with SSO" button.

Click "I know the company domain" to sign in with Single Sign-On.

For the "Enter you company domain," enter "asu" in the text box

You will then be directed to the ASU authentication page. Login using your ASURITE username and ASURITE password.

You may be asked for DUO two-factor authentication, just like on my.asu.edu and other ASU websites.

You now should be logged into your Zoom Desktop App with your ASU Zoom Pro Account.
USING A BROWSER
---
Go to https://asu.zoom.us/

Sign in with ASURITE ID and password (if prompted)
HOSTING A MEETING
---
After logging in, select, "Schedule a Meeting." From here, enter a topic. You can either select "Recurring meeting" or select a specific date, time and duration.

After finalizing the meeting options, click "Schedule" or "Save" and you'll be able to invite others.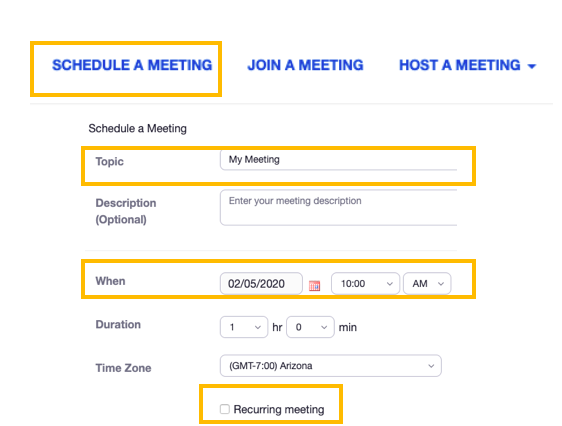 You can invite others by adding to Google Calendar, Outlook Calendar or Yahoo Calendar, OR copy the meeting link and send to participants via email or other method.
JOINING A MEETING
---
When receiving a Zoom invitation, you'll see the "Join from" link.

Click the link and you'll be prompted to download and run Zoom. A zoomuslauncher.zip file will download.

Click on the file to install

Once the host starts the meeting, the Zoom meeting window will appear. Here is where you can join with your computer audio and connect your video
FEATURES
---

SCREENSHARING
Choose to share your desktop, a whiteboard for notes, etc.
RECORDING
Choose where to record: "Record on this Computer" OR "Record to the Cloud"